"Cooperatives – Solidarity Management as an Alternative ", January 27, 2021 from 2:00p.m.  to 4:30 p.m. via ZOOM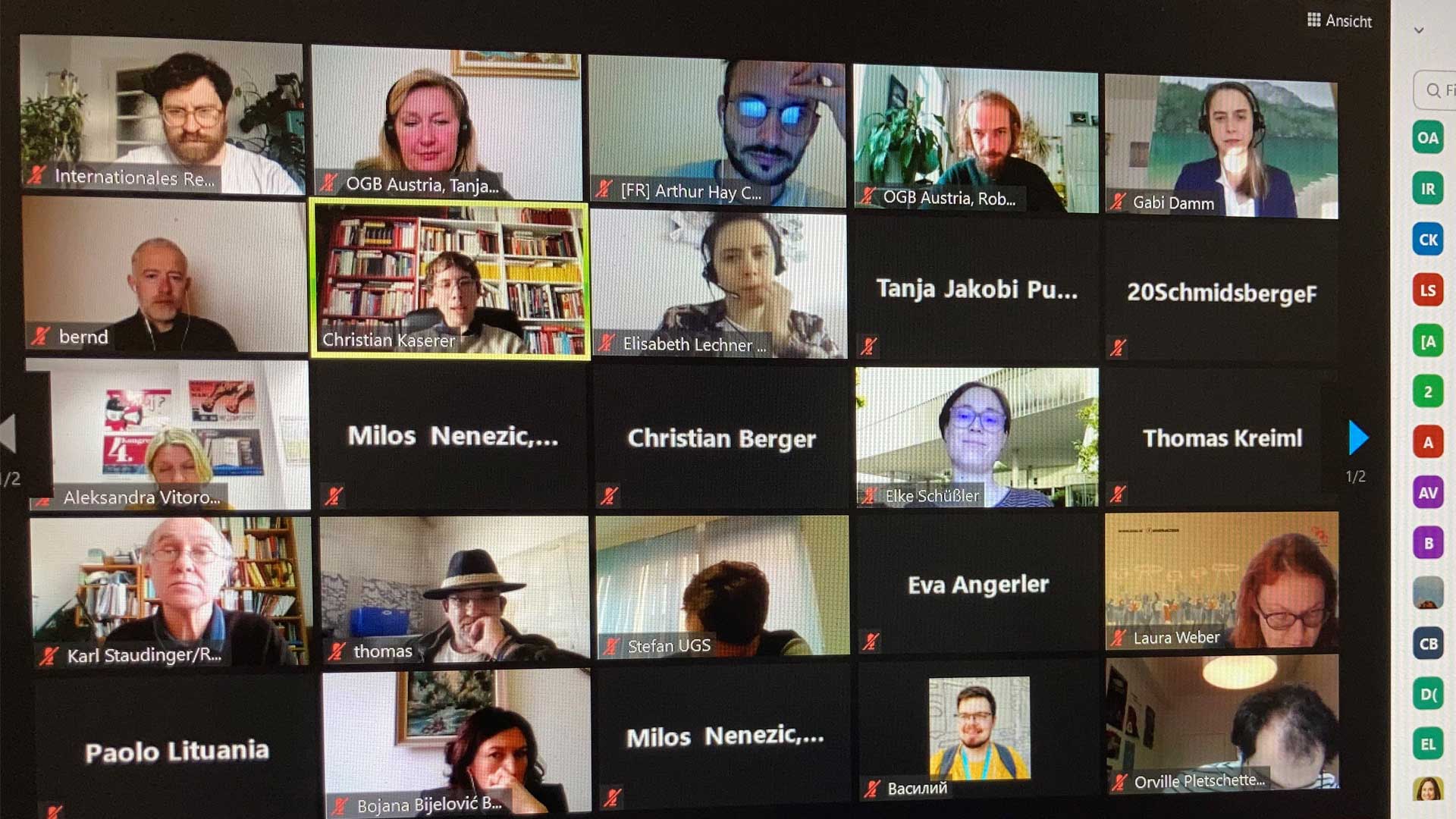 Cooperatives - what are they and why is a solidarity economy an interesting alternative? On January 27th, 2020 around 41 participants from the project countries as well as from several other European countries discussed the facts and questions about the "cooperative" economic model. Experts from Austria and France gave an overview of the legal form and its advantages and disadvantages, various cooperatives in Europe, as well as direct experience in the areas of food delivery / courier service (Coop Cycle) and software / graphics (Lekton).

Christian Kaserer, a freelance journalist and author of the book, "Coop - Self-managed Projects and Companies in Europe" gave an international overview of cooperatives. Using the world's largest association of cooperatives, Mondragón Corporación Cooperativa (MCC) as an example, he showed that democratic self-government is not only possible in small projects or cooperatives but also in larger enterprises. Mondragón is the seventh largest group of companies in Spain with over 80,000 employees and is economically very successful. MCC is the "umbrella organisation" that includes approximately 100 smaller cooperatives. The MCC employees share the profit and are involved in strategic decisions. Difficulties in the individual companies are dealt with internally - in the event of major operational difficulties that cannot be resolved economically, a change to another cooperative (company) is possible. Kaserer also reported on a cooperative in Thessaloniki (Greece) that was founded out of an economical emergency: VIO.ME - a production cooperative for soap. The factory, which previously housed a tile adhesive company, Philkeram-Johnson, closed overnight and all employees were suddenly unemployed. Not wanting to succumb to the situation, the employees decided to occupy the company and use the machines to make soap.

Dr. Karl Staudinger from the Association for Promotion and Auditing of Cooperatives "Rückenwind" gave insights into the legal aspects of cooperatives. Rückenwind was recognized as an auditing association by the Federal Ministry of Science, Research and Economy in 2016. In order to found a cooperative, acceptance into such an auditing association must be guaranteed. The cooperative must present the statutes and business plan and must also convince the auditing association of its economic feasibility. Cooperatives must be audited every second year (cooperatives subject to supervisory boards with 40 or more employees: annually). The founding principle of a cooperative is to promote the income of the members, the economy of the members or the social activities of the members. Unlike an association, a cooperative can distribute profits. One of the most important differences to a limited liability corporation is the fact that no minimum corporation tax is required. Like a corporation, members are only liable with their business share and then with a contribution in the same amount of that business share.

Arthur Hay from COOP Cycle in France, an association of bicycle delivery cooperatives, reported how this type of company makes it possible to offer bicycle messengers fair working conditions. In contrast to many platform companies in the food delivery sector, employees at COOP Cycle are employed and are not allowed to have freelance contracts or be self-employed. Profits are not distributed to shareholders, but to employees. Hay also stated that through the democratic administration and pooling of resources it is possible to reduce costs. Coop Cycle is therefore extremely competitive and creates strong bargaining power to protect and strengthen the rights of bicycle messengers.

Lektion eG is a cooperative of designers and software developers who value freedom and self-determined work as well as teamwork. Since 2018, this cooperative which incidentally is also a member of the Audit Association Rückenwind, is a team of six – all of whom were freelancers or entrepreneurs in the past. They too, have proven that not only was it possible to end their precarious self-employed working conditions through the cooperative, but also that they can be a successful company – through fairness, team spirit and low overhead costs.

The recording of this webinar would be provided by Riders Collective at https://www.riderscollective.at/coop-webinar .